Compasses
Enjoy the great outdoors!
Compasses



Compasses


15TDCL
Probably the most famous compass in the world, this is the original model 15 mirrored map compass. Not just a compass, the 15 is declination adjustable, wears luminous points and features a clinometer. This is a must for any outdoor enthusiast.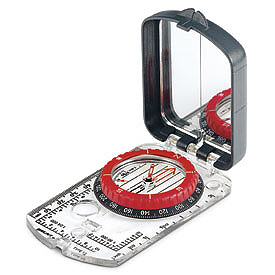 3.9" x 2.5" x 0.8"
3 oz
Declination adjustable
2º graduations
Luminous points
Protective cover with sighting mirror
Clinometer
1:24k, 1:25k & 1:50k meter scales
Lanyard with declination tool
Available in degrees or in Quads as the 15TDCLQ
Lifetime warranty
$70.00
Compro Pocket Transit

Developed using composite materials for the body, the ComPro is a lighter, more affordable alternative for transit users. It incorporates a cast NdFeB, rare-earth magnet, precisely balanced on a sapphire bearing. The result is a powerful magnet, which seeks magnetic north very quickly and allows for faster readings. Call us for special balancing.

Includes Leather Transit Case
Single NdFeB magnet resists demagnetization better than other types of magnets for increased reliability
Azimuth accuracy ±½º with 1º graduations
Vertical accuracy ±½º with 1º graduations and 10 minute readability
Vertical angle measurements to ±90º or 100% grade
A percent grade scale with increments of 5%
Induction damped needle for quick, accurate readings
Sapphire jewel bearing allows for smooth needle movement
Magnetic declination adjustment allows for east or west declination setting to 180°
Short and long sights for increased accuracy when sighting azimuth or vertical angles
Precision aligned mirror with convenient "see through" sighting capability
Composite body material is permanently impregnated with color
O-rings make the Com-Pro waterproof for increased reliability
Limited lifetime warranty
$375.00
54LU





$88.00

8040G





$56.00

8096AR





$47.50

16DLU





$40.00

27 LU





$34.00

26 DNL





$35.00

3DLU

$30.00

7DNL

$18.00

8NL






$12.00

10NL

$17.00

12NL

$16.00

9067

$ 6.00

85R

$84.00

58 Kayak





$69.00

7005

$42.00

8900 DVD

Package includes a 35 minute full color video and 8010G classic map compass with instruction manual. Learn how to navigate with compass and map in the great outdoors.



$36.00
back to the top
---
Chaltrek is a proud dealer of:
---
Chaltrek
toll free number: 1-888-316-7350
E-mail:
jw@chaltrek.com
404 Balmoral Street
Thunder Bay, ON
P7C 5G8
Phone#: (807) 577-8848
Fax #: (807) 476-0430